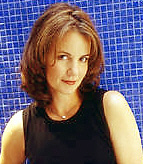 Margaret Colin's
Movie and TV Movie
Information
---
UltimateTV.com
by Jay Bobbin
Andy Garcia Casts "Swing Vote" on ABC
Though television isn't his norm, Andy Garcia saw it as the place to get a certain tale told.
Known for such feature films as "The Godfather, Part III" and "When a Man Loves a Woman," the actor plays the newest member of the Supreme Court in ABC's compelling Monday movie "Swing Vote" (9 p.m. ET). Set in the near future, the story gives each state the right to determine its own laws regarding abortion. One result is a controversial case that ends up in the nation's highest court.
Sentenced for killing her unborn child, an Alabama woman appeals to have her murder conviction overturned. Garcia's former-litigator character has the deciding vote, which he must make in the face of powerful arguments on both sides of the issue. Co-executive-produced by Garcia and Jerry Bruckheimer ("Armageddon" ), the film boasts one of the season's strongest TV-movie casts.
Harry Belafonte, Kate Nelligan, James Whitmore, Ray Walston, Robert Prosky, Milo O'Shea and Bob Balaban portray other Supreme Court justices. Also featured are Lisa Gay Hamilton ("The Practice"), Margaret Colin and Michael O'Keefe.
[SNIP]
April 16, 1999
---
Journal Now
by Roger Moore
Review: The Devil's Own
Stars: Brad Pitt, Harrison Ford, Margaret Colin, Simon Jones
Director: Alan J. Pakula Rating: R, for graphic violence
[SNIP]
Pakula's well-known affection for actors is much on display here. He gives supporting players Margaret Colin (Independence Day), Simon Jones (Brazil) and Ruben Blades (The Milagro Beanfield War) chances to shine (close-ups, emotional monologues), and they don't let him down.
March 28, 1997
---
The Detroit News
Margaret Colin comes into her 'Devil's Own' with Brad Pitt
Margaret Colin, who recently wrapped a co-starring role in the upcoming summer release "Independence Day," has joined the cast of "The Devil's Own," starring Harrison Ford and Brad Pitt. The film is about an Irish cop who takes in a member of the IRA. Filming is scheduled to get under way in the spring. Colin's other credits include "Terminal Velocity," "Pretty in Pink" and CBS' "Chicago Hope."
1996
---
Independence Day: Production Info
The role of David's ex-wife, Constance Spano, the President's outspoken communications director, is played by Margaret Colin. Independence Day appealed to Colin because "each character gets to be a hero for a little while." A versatile actress who recently completed a starring role opposite Harrison Ford and Brad Pitt in "The Devil's Own," Colin's casting in Independence Day makes an interesting tale in its own right.
Emmerich and Devlin had met with many actresses and agents, viewed hundreds of demo tapes, but two days before shooting Constance's first scenes, they still hadn't found the right actress. This predicament didn't particularly alarm them; the same thing had occurred on "Stargate."
"We looked at several actresses for the part, but nobody really had all the aspects we wanted," Devlin recalls. "Roland refused to compromise and had absolute faith that we would find her."
Finally, "at the last possible second," Devlin asserts, they narrowed the selection down to Colin. She gamely flew to location in Wendover, auditioned for the filmmakers, and two days later joined the cast and crew of Independence Day.
Independence Day marked Colin's first foray into the genre, and she found Emmerich to be a very ingratiating guide to that world. "Roland knows so much about movie-making and, of course, everything about this film. He is extremely well-versed in special effects but also has a great vocabulary with which to speak to actors. He never assumed that there wasn't any part of it that we didn't need to know about and he was very excited to share everything with us, in a way that was nurturing and helpful, never condescending."
---
Info About "Hit & Run"
In a Lifetime Original Movie, Joanna Kendall (Margaret Colin) must choose between right and wrong when she accidentally hits a young girl with her car. After leaving to call for help, she returns — only to hear the reaction of horrified onlookers, who are outraged that the culprit left the scene of the crime. In a moment of panic and confusion, Joanna makes the life-changing decision to remain silent. The effect snowballs, as this perfect wife and mother must grapple with her guilt — as well as with the female detective who suspects her.
---
Entertainment Weekly Online
by Jason Cochran
New Plays/ Stage -- JACKIE: A Review
Margaret Colin (Independence Day) stars as Jackie--yes, that Jackie--in writer-director Gip Hoppe's goofy, impressionistic bio-play. Her life unfolds in vignettes featuring a rotating cast, lots of puppets, and some hilarious sight gags (Ethel Kennedy shows up pregnant with a bunch of baby puppets hanging off her). Hoppe's play, however, with its dull observations on the culture of celebrity and no new insight into the woman at hand, begins to wear thin and isn't half as clever as the staging.
---