TV Guide -- What's New
by Ileane Rudolph
IDEAL MOTHER
MARGARET COLIN TAKES ON A ROLE THAT SUITS HER NOWAND AGAIN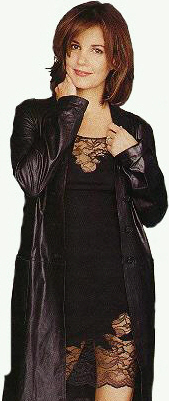 Margaret Colin never wanted "to play mom to anybody." As the actress's life changed, however, so did her mind. "Now I am a mom," she says, "and I find mothers incredibly fascinating." (Colin and her husband, Guiding Light star Justin Deas, are the parents of Sam, 9, and Joey, 6.) She is particularly intrigued by Lisa Wiseman, her character on CBS's romantic sci-fi drama Now and Again. (Fridays, 9 P.M./ET).
"She's a terrific homemaker, she's in love with her husband and her kid," says Colin, 42. "She's the kind of suburban woman who should be glorified," Of course, she's also a woman who doesn't know that the young hunk hanging around is really a scientifically upgraded version of the husband she believes is dead. "I like that part, too," she says, contemplating the unusual-for-Hollywood, at least-romantic possibilities between her and 32-year-old costar Eric Close, who plays her new-and-improved husband. "Why is it always the older guy with Catherine Zeta-Jones?" asks the actress, whose film credits include "3 Men and a Baby" and "Independence Day."
The easygoing Colin has done four series and a pair of soaps, and she wasn't that keen to return to TV. But an "appealing script" by Now and Again producer Glenn Gordon Caron won her over, as did some perks. The show is filmed in New York, near her New Jersey home, and she gets to smooch with her ''cutie pie" costar. Says Colin: "This has turned into a wonderful part- time job."
October 23-29, 1999