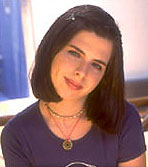 Reviews of Getting to Know You
&
Interviews with Heather Matarazzo
---
Film Scouts
by Andréa C. Basora
Heather Matarazzo on "Getting to Know You"
Heather Matarazzo has grown up. Gone is the pre-teen awkwardness that made her portrayal of Dawn in "Welcome to the Dollhouse" such a terrifying success. Now 16, she brings impressive sensitivity to her new film, "Getting to Know You," an adaptation of of a series of short stories by Joyce Carol Oates. She plays Judith, the central consciousness of the film, and reflected on this new moment in her career in an interview with Newsweek.com. Excerpts:
On making "Getting to Know You:" It was a great experience...I'm so happy and proud to be a part of this story because it's one, that to me personally, needs to be told. People have to realize that whether they like it or not, they have a story to tell, and whether they want to share it with the world or not is up to them. I loved the characters, and I especially loved the short stories that Joyce Carol Oates wrote...and what I also loved was working with Bebe. Bebe Neuwirth is amazing. To watch her work and perform is just jaw-dropping. It's awe-inspiring, and makes you want to go to work each morning. Me and Bebe had this connection off-set and on-set that was really cool. And the relationship between Judith and Trix is so genuine. You don't see a relationship between mother and daughter like that...Actually, I've never seen one like this, and the way Lisanne [Skyler, the director and co-writer] and Tristine [Skyler, the co- writer] wrote it, it was so beautifully done.
On her character: There are a lot of similarities between me and Judith. It wasn't that hard to do the scenes. I mean, it was an emotional whirlwind everyday. It was the most intense set - I'm surprised I didn't have a breakdown, that everybody didn't have a breakdown.
On the aftermath of "Welcome to the Dollhouse:" After "Welcome to the Dollhouse," a lot of scripts did come, but that experience was overwhelming. I didn't know it was controversial at all, in regards that I was only eleven and a half when I made it and I really didn't know what Todd [Solendz] was doing - I was just going to work. Over the course of the couple of years since I've done the film, I've matured to an extent and I can now look back on the film and see why it was controversial. I don't think you can compare any film to "Dollhouse" and there's not going to be another film like it. It was hard, you know, because kids can be vicious and they can be cruel. They can be very fickle - nice to you one minute and mean the next. That goes without saying for any teenager in high school or junior high, but especially if you're an actress and you make a film such as that where you get ridiculed onscreen. Kids feed off of that to riducule you offscreen. People would call me 'Wienerdog." I wouldn't fight it, I'd just ignore it because I hate provoking arguments.
1999
---
Sundance Film Festival 1999
by Chuck Walton
Getting to Know Heather Matarazzo
Those who know Heather Matarazzo as Dawn Wiener from "Welcome to the Dollhouse" are in for a shock. At this year's Sundance Film Festival, Matarazzo looks like anything but a 16-year-old nerd. Dressed in fashionable sweater and jeans, with her auburn hair cut long and lovely, the actress comes across more as a pretty, articulate teenage ingenue.
Three years ago, Todd Solondz' critically acclaimed film thrust the actress into the spotlight. The then 13-year-old found her performance as much a liability as an asset. She won the 1997 Independent Spirit Award for "Best Debut Performance." But she was also typecast in similar scripts, and settled for smaller roles in films such as "54" and "Devil's Advocate."
"After 'Dollhouse,' people couldn't get it out of their heads that I'm not Dawn Wiener," said Matarazzo. " It was a great honor, and I'll never shun away from it, but it gets frustrating sometimes."
This year's fest offers her the best chance to break free from the stereotype. Her project "Getting to Know You" is a powerful tale that debuts as part of Sundance's esteemed dramatic competition. Matarazzo again plays a heroine of sorts, but her portrayal of a responsible sibling is completely removed from "Dollhouse." The only things in common are Matarazzo's uncanny ability to connect with audiences.
"This time, it was a lot harder, because it was emotionally strenuous," said the actress. "I wasn't going on instinct. It was an emotional whirlwind for me, but it holds such a place in my heart."
" I felt as if this was kind of my reappearance into the film world," she said. "I was in all this other stuff that people have seen me in, but this is the first time that it's a lead role at Sundance, and it's the first time people have seen me do serious work again for an entire 100 minutes."
Matarazzo intends to continue playing leads as well as supporting bits. An aspiring thespian since age seven, she's already mounted a varied career, playing Helen Keller on stage, the girlfriend-next-door on t.v.'s "Roseanne," and an ambitious
student at an all girls school in "Strike."
Although that project cast her alongside up-and-comers Kirsten Dunst and Rachael Leigh Cook, Matarazzo expresses reservations about the idea of "Young Hollywood."
"I'm not really in with the whole Hollywood kid thing for a couple of reasons," she said. "There are a few extraordinary talents out there who don't get a lot of work because all the name actresses that are hot right now are doing a lot of films."
"That really disturbs me because I don't think necessarily you should get a role because you're a hot commodity, but you should get a role in a film because they like your talent."
Despite her concern, Matarazzo maintains a healthy relationship with her peers. She's complimentary of Rachael Leigh Cook and "Dawson's Creek" actress Michelle Williams, and has become good friends with Kirsten Dunst.
In the future, she'd love to co-star with Jodie Foster, Glenn Close, Julianne Moore or Meg Ryan. Lest anyone forget that she's still an American teenager, Matarazzo also throws in the name of a timely leading man.
"I'd love to do a scene with Ben Affleck," said the youngster. "Not a whole movie, just a scene. I just think that would be cool."
1999
---
Getting to Know You: A Film Review
by James Berardinelli

Location: United States
Date: 1999
Running Length: 1:36
MPAA Classification: None (Profanity, violence, mature themes)
Theatrical Aspect Ratio: 1.85:1
Producers: Laura Gabbert, George LaVoo
Screenplay: Tristine Skyler & Lisanne Skyler
Cinematography: Jim Denault
Music: Michael Brook
Director: Lisanne Skyler
Cast: Heather Matarazzo, Michael Weston, Zach Braff, Bebe Neuwirth, Mark Blum, Bo Hopkins, Tristine Skyler, Sonja Sohn, Christopher Noth, Kevin Black, Mary McCormack, Jacob Reynolds, Leo Burmester
Getting to Know You, Lisanne Skyler's debut feature, is the tale of two teenagers, Judith (Heather Matarazzo, the harried young heroine from Todd Solondz's Welcome to the Dollhouse) and Jimmy (Michael Weston), who are drawn to each other because they're in search of a sympathetic ear. Neither has anyone to talk to, but both have a multitude of things to say. They meet at a bus station where Jimmy frequently hangs out and where Judith is waiting for a ride home. After a few awkward attempts at conversing, they begin telling each other things about themselves and making up histories for other men and women in the station. And, as they spin their narratives, the stories come to life in front of the camera.
Getting to Know You is an affecting, although unspectacular, drama that features a scene-stealing performance by Matarazzo, who proves that her work in Dollhouse was no fluke. She is supported by an able cast that includes Zach Braff as Judith's protective brother, Bebe Neuwirth and Mark Blum as her parents, and Bo Hopkins as a kind-hearted police officer with a skeleton in his closet. The script (by Skyler's sister, Tristine, who also has an acting part in the film) weaves three Joyce Carol Oates stories into an original framework and provides a view of life that is sometimes darkly funny and sometimes just dark. The transitions between the trio of tales told by Jimmy and Judith (about a high-stakes gambler in a skid, a contentious father/son/stepmother relationship that leads to a bloody resolution, and a mother and father who resent their children) are handled fluidly. The most impressive aspect of the film, however, is how Judith and Jimmy subtly reveal aspects of their personalities, fears, and family histories in the way they slant the stories they tell. This is the kind of approach that could easily have come across as heavy-handed and clunky, but Skyler handles it with deft skill. As a result, instead of being drowned in melodrama, we come to care about the characters and their situations.
1999
---
Reviews of Welcome to the Dollhouse starring Heather Matarazzo »