The Roush Review
TV Guide Magazine
by Matt Roush
Now and Forever: A True Original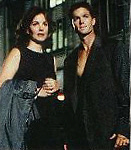 When TV Guide recently saluted "The Best New Shows of the Season", the only reason CBS's delightfully offbeat Now and Again didn't make the list was that at the time, we simply didn't have enough to go on.
What was this show? Sci-fi? Romantic comedy? Action thriller? By the end of the first hour, all you could tell was that it was awfully provocative.
The series' gifted producer, Glenn Gordon Caron, is so protective of what he calls this "pretty wiggy stuff" he's created that, to screen a nearly finished episode, I had to trek to an industrial section of Queens, New York, where the production is based in a converted cement plant. (At least he didn't make me where a blindfold.)
The good news: Not only does Now and Again live up to its premiere episode's imaginative promise, it keeps getting better. And even three episodes in, I'm still not sure where it's going. How refreshing is that?
TV fans may compare this show to The Six Million Dollar Man, but Caron cites the musical "Damn Yankees" as an influence. Either way, the concept is fantastic: Michael Wiseman (John Goodman), an ordinary family man, is killed in a subway accident and wakes with his brain implanted in a government science project: a bioengineered superhero (Eric Close) with special abilities.
While this new lease on life is thrilling, there's a catch: He's not allowed to contact the wife (winsome Margaret Colin) and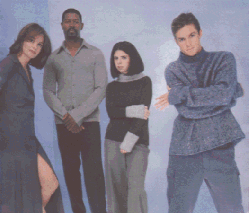 daughter (wry Heather Matarazzo) he left behind.
Trapped in an existence so rigid, even his stool is scrutinized, Michael goes to great lengths to revisit his loved ones, much to the annoyance of his supervisor, the elegantly sinister Dr. Theodore Morris (the terrific Dennis Haysbert), who keeps threatening to replace him with another "prototype" if he doesn't behave.
Meanwhile, there's evil to fight. In the gripping introductory trilogy, Michael thwarts an Asian extortionist who unleashes deadly nerve gas through broken eggs, with a wild climax on the New York City subway in which all the subplots converge.
Now and Again juggles intensity with whimsy, tenderness with terror, in an appealing formula. This is the best gift CBS has given Fridays since Beauty and the Beast.
Dated October 16, 1999