Entertainment Weekly
by Bruce Fretts
Now & Glenn
The 'Moonlighting' Guru returns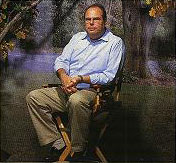 "The thing I love about Glenn," says Eric Close of Now and Again creator Glenn Gordon Caron, "is in a business where everybody gives lip service, he's not afraid to tell me the truth -- and not always to my enjoyment." Sitting in his unvarnished office adjacent to Now's set, Caron agrees that it's best to shoot straight with actors, even if it means an occasional misfire. Recalling a talk with the costar of his first TV hit, ABC's 1985-89 romantic mystery Moonlighting, Caron confesses, "I pleaded with Bruce Willis not to do Die Hard. Sometimes [actors] don't listen to you, and It's a good thing."
Sometimes it's not. Caron notoriously butted heads with both Willis' costar, Cybill Shepherd, and Warren Beatty (whom he directed in the 1994 cinematic stink bomb Love Affair) -- "a couple of actors who want to run for President he points out." Yet Caron, who resembles a rumpled suburban dentist more than a Hollywood producer, is capable of compliments. "There are days when he can tell I need a boost," says Close. "So he'll say, 'Hey, Bruce Willis loves your performance.'"
Willis isn't the only fan. Close and Co. have seen Now turn into this season's sleeper hit and no one's more surprised than Caron. "I was fairly certain we wouldn't have success," he says, citing the show's low-profile Friday slot, CBS' traditionally unadventurous audience, and potentially tough sci-fli competition from Chris Carter's Harsh Realm (which Fox axed after three weeks). "I would've bet on Carter, but I always think disaster's an inch away. "
Maybe that's because it has been before. After writing for Taxi and Remington Steele, the Long Island native created Moonlighting and soon saw its on-set turmoil spill over into headlines. "I don't think Cybill understood how hard the workload was going to be," says Caron, still sensitive about discussing those stressful days. "A situation arose with her, and at a certain point it became clear that… umm…suffice it to say I wasn't there for the last year and a half."
Movie studios came calling, but while Caron's 1988 directorial debut -- the Michael Keaton detox drama Clean and Sober -- intoxicated critics, audiences left it high and dry. "I actually called [Warner Bros. then co-chief] Bob Daly and apologized," recalls Caron. "He laughed and said, 'Don't worry about us – we'll be fine!'" Execs weren't as understanding when his second film, 1993's pyromaniac comedy Wilder Napalm, flamed out even faster. "When I was making it I thought, 'Wow, this is up there with Birth of a Nation'" says Caron of the Dennis Quaid-Debra Winger vehicle. "We got to the first preview and half the audience wanted to burn down the damn theater."
Terrified he'd never work again, he accepted Beatty's offer to remake An Affair to Remember. "I think I made a better movie than it ultimately was," says Caron, who wasn't involved in Love Affair's final editing. "It was a heartbreaking experience." He rebounded in 1997 with Jennifer Aniston's Picture Perfect. "I thought, 'Maybe I'm out of movie jail.' But the phone didn't ring."
Except, that is, for persistent calls from CBS prez Los Moonves, who offered Caron carte blanche to return to TV. "I was pregnant with this idea for Now and Again, so I went with the first guy who said, 'Hey, let's go'," explains Caron, 45, who lives in Connecticut with his actress wife, Mary, and their three kids. Moonves' vote of confidence enabled Caron to create one of TV's few truly unpredictable shows. "We work very hard to startle," says Caron, who has no master plan for Now's future other than to follow his "golden gut" in cooking up plotlines. "I'm not Machiavellian. If I were, Bruce and Cybill would've never ended up in bed -- which is still considered one of TV's great storytelling blunders."
November 26, 1999