Teen Celebrity
by Joann Jovinelly

Abandoning her awkward roots, Heather Matarazzo finds a
home on CBS's Now and Again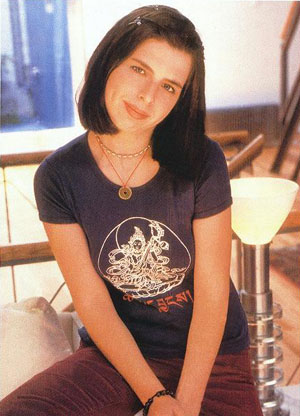 To know her is to love her. Not many could forget one of the most talked about film roles of the 90's: the unusual tale of seventh grade angst in Todd Solondz 'Welcome to the Dollhouse'. It was that role that made Heather Matarazzo a household name and gave approval to the rest of us to harbor a secret hatred for our perfect siblings. Now she's back -- and on television every week -- in the well-received CBS drama, Now & Again.
The pilot for Now & Again was provocative, threatening and very scary. How does it make you feel to be involved with such a groundbreaking show?
"I love the show. I feel as though each episode is just getting better. It's the kind of show that makes you think. I love the people that I'm working with and it's a lot of fun. It's almost as if we film a new mini-movie every week and you never really know what's going to happen-it goes day by day. Glenn is a genius. He knows what he wants but he won't share it with the rest of the world."
What can you tell us about your latest big screen project, 'Getting to Know You'?
"It's based on a series of short stories written by Joyce Carol Oates. It's the story of a girl finding herself and her identity."
Was 'Welcome to the Dollhouse' your first major film role?
"Yes, but before I landed that I did some television; I did a stage production of "The Miracle Worker" and a short student film piece for New York University which was really the first thing that I ever did. In that early short film I played a girl that got sexually molested by her mother's boyfriend."
Do you prefer roles that push an emotional element?
"I do, but the only reason why I did the recent film -- Our Guys: Outrage in Glen Ridge (which also dealt with sexual themes and content) -- was because it was based on a true story. And I really wanted to do it because it was the first time I was offered the chance to play a character that was specially-abled. I felt that it pushed me (as an actress) in different ways."
You have gotten a great deal of attention because of the roles that you've chosen and the fact that you are continually challenging yourself as an actress. For instance, the reception that you received after 'Dollhouse' was incredible.
"I feel as though 'Welcome to the Dollhouse' was somewhat of an easy role to play. It was my first job. Todd Solondz (the director) helped me out a lot. He would discuss each and every scene with me and then I would go and do it. I really don't feel as though I knew exactly what I was doing, but I pulled it off. I think it was easier for me because I was playing somebody who was my own age. I was going into seventh grade that year, so I almost felt that I was preparing myself for what lay ahead in a similar fashion. I still feel that every prepubescent girl or boy will go through that same pain in junior high school."
So, how do feel about making the switch back to television?
"Since this is the first I've ever done television -- mean, where I go to work every single day and film a television show. I've done reoccurring roles, but this is the first permanent television job that I've had and I find it quite enjoyable. I find that what's really nice about doing a television show-especially this one-is that each week and each day the actors get to pick their colors and emotions and try to capture just who their characters are and that's an enlightening experience. It's very cathartic."
What is your character like since she lost her father?
"She shadows her sadness under anger and bitterness. The most sadness that I've seen is during the Thanksgiving episode when two thugs come into the house and she blatantly says, 'Just wait 'till my father gets home,' and the guy replies, 'If your father was coming home, he'd be here by now -- it's Thanksgiving.' And she replies, 'Yeah, if my dad were alive, he'd kill you:"
Wass it weird for you to act with John Goodman again after portraying DJ's girlfriend on Roseanne?
"No. it was great. It's just like any other role that you would play -- it was fun. Roseanne is a great woman -- she's strong and she knows what she wants -- and John is a great actor."
You also popped up in a Nada Surf video of all places. What's up with that?
"That was a long time ago! It was similar to 'Welcome' in the way I played this sort of weird, kinda crazy chick. I think 1, like, fell in the street and banged my head and then it goes into this whole subconscious dream world where I hang out with the band and float around the streets of Manhattan."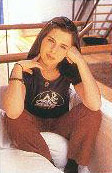 You also were in the third Scream film that just came out, right?
"Yes, but I can't tell you anything. It's a big secret."
Do you get killed?
"I say nothing."
How do you feel about the response that Kevin Smith has gotten on Dogma?
"I know that he's taking a lot of heat but that's what I respect about him. I respect the fact that he's going to do what he wants to do and he doesn't care what people think. I feel as though when you have a unique director, writer or actor there are always going to be people that will want to put that down. I feel that many of these organizations examine every little thing that comes out in the theater, or is presented on television or the radio and look to see if it's the least bit offensive in any way. A story is a story -- if you don't like it -- don't go and see it."
Is theater in your future?
"I hope so. I feel that every actor-if they want to push themselves to the limit-should try theater, whether it be on or off Broadway. Every actor should try to do theater."
How do you feel about teens being spotlighted more often these days?
"Many of the interviews that I read with some of the popular teenaged actors are so negative. Sometimes I feel that they are sending the wrong message. I feel that those persons are given a gift and because they are fortunate enough to work, and if you are a celebrity that teens look up to, then you should use that in a positive way. Send out a positive message. Don't use your celebrity to talk trash about people. And don't use the interviews as your soapbox. I don't consider myself a teen celebrity. I consider myself an actor who's practicing their craft. I think when people think of celebrities they think -- oh, big Hollywood mansion, pool, Porsche, Gucci sunglasses and parties."
January/February 2000