TV Guide Online
by John Aboud
Now and Again Star Gets Close to You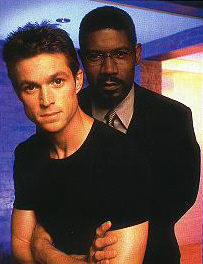 The issue of television's lack of diversity is all over the media, but Dennis Haysbert of CBS's new Friday night drama Now and Again thinks his character is a step in the right direction.
Of his character, a black scientist who develops "the perfect human," Haysbert says, "This guy got into a lab and created an artificial liver, an artificial heart, all these wonderful things that went into this young man's body. And I thought it was very cool that he actually built a white man." The white man in question is Eric Close, who plays Haysbert's experiment.
"I never thought of it in terms of how it was going to stack up as far as black characters for this coming TV season," Haysbert told reporters at this summer's TCA press tour. Rather, the mystery and charm of the slightly "malevolent" bio-engineer proved irresistible. Haysbert wonders rhetorically, "What must this man have sacrificed in his life to be able to accomplish what he's accomplished?" And even though Close plays a figure out of science fiction, Haysbert says there's nothing far-fetched about his role. "I know I have a whole list of scientists in my pocket, of black scientists and what they've contributed to this world."
Both Haysbert and show creator Glenn Gordon Caron (Moonlighting) commented on the scientist's gift for song. In one scene he breaks into "Close to You" as Close adjusts to his new body. Caron says this impromptu musical moment was inspired by British TV legend Dennis Potter (The Singing Detective). "I think Potter's a genius. And I thought, if I'm going to do it again, I want to be able to do that. I want to have somebody sing 'Close to You' while somebody else looks at the size of their member."
September 24, 1999