CBS
CBS Summer Press Tour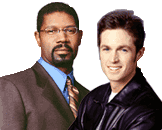 During the summer, before the new television season officially started, television critics from across the country came to southern California for the CBS Summer Press Tour. The stars of Now And Again, along with executive producer Glenn Gordon Caron, answered many questions about this new Friday night series.
One critic asked about the open-ended nature of the first episode. Since the conflicts of the first episode are left unresolved, did the producers worry that this might alienate the audience?
Glenn Gordon Caron: No...I think it, hopefully, will intrigue the hell out of people. It will compel them to come back. I think the neatness and the predictability of television is one of the things that makes it difficult to get passionate about some of it.
Another critic pointed out that the title of the show, Now And Again, is very similar to a new ABC show called, Once and Again. Did the producers ever consider changing the name?
Glenn Cordon Caron: We were well into our pilot before we realized that there was another show with a similar title. I mentioned it to Les Moonves, and he said, "Let them worry about us." And I thought, whenever you can get a network head so bullish about your show, you don't want to do anything to diminish that. So, I took Les' confidence in the show as a great sign, and we're just charging ahead.
One critic mentioned the NAACP report that strongly criticized the television networks for the shortage of non-white characters. One of the principal characters on Now And Again, Dr. Theodore Morris, is played by an African-American actor, Dennis Haysbert. The critic asked if this role was originally written for a white actor.
Glenn Cordon Caron: No, it was actually written to be played by a black man. I had this image in my head from the beginning that when this person effectively woke up from the dead, there was this beautifully-dressed, elegantly-spoken black man sitting at the end of his bed. I can't explain why to you, but it had nothing to do with the [NAACP] controversy.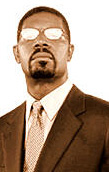 As a follow up to this statement, a critic asked Dennis Haysbert if he considered himself to be "beautiful and elegant"?
Dennis Haysbert: For lack of anything else, yes. Why not?...I've been dreaming about a role like this my entire career. And I have to take my hat off to Glenn for writing this character...And hopefully, this will, open some doors for other actors that don't walk around with their pants halfway down their butts and use the "N" word every time they have a chance.
One critic asked about the unusual premise of the show. Where did the idea originally come from, and how did it evolve?
Glenn Cordon Caron: Les [Moonves] approached me - it was very gratifying - he approached me and said, "How about coming back and doing some television for us? I'll let you do whatever you want." He basically made me a deal that allowed me to do whatever I wanted.
I remembered as a kid seeing Damn Yankees. There's the part where this guy wants to play for the Washington Senators. He's like 50-years-old, and he just sits and curses at the television when the Yankees play the Senators. He wants to be a Senator.
And his wish is granted by the Devil, and he's turned into a young, strapping - I think, Tab Hunter. He goes and plays for the Washington Senators, and no sooner does he become everything that he wants to be, that he realizes that the thing he most wants in life, really, is to be back with his wife.
And that moment made a big impression on me when I was eight or nine...It sort of grew out of that notion.
Another critic asked series star Eric Close how it felt to portray a man who is supposed to be in "perfect" physical condition. Was it difficult to get ready for such a role?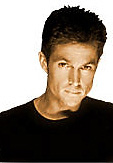 Eric Close: One thing as an actor that I never really liked is the appearance part of it and the physical part of it. It's always been kind of a struggle to get me in the gym to work out and do that kind of stuff. So, I get cast in this part and I go home and start looking at the script.
I was like, "What size is my waist supposed to be?" And the script says 29. I haven't been 29 since, well, maybe elementary school.
So I raced to my trainer and said, "Look, I've got ten days to get in shape for this show." Basically what he said was, "This is food. You don't get anymore," and "These are weights. You will lift them for nine days for 24 hours a day."