MILLENNIUM MAN
UPN
Friday, December 17th
8pm/7c

THE FIRST SUPERHERO OF THE 21ST CENTURY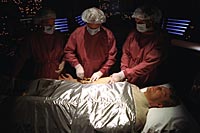 In a dual role, actor Andrew Jackson (The Last Don II) stars as a U.S. intelligence agent whose death is averted when his brain is transferred into the billion dollar "Advanced Design Anatomical Man" or ADAM, a technically perfect and nearly invincible body. Developed by Dr. Eisenberg at the top secret Eden Institute, ADAM is the ultimate 21st century fighting man/machine which, in its "Overkill" mode, transforms from flesh into a fully metallic offensive weapon.
When Dr. Eisenberg suddenly goes missing along with the prototype of his ADAM creation - a flawed, evil version called ADAMAN - they are quickly linked to a deadly diamond heist. Soon, U.S. intelligence agent Mark Damon takes over the investigation and finds that David Sanjoni, the husband of a former British secret service agent, who is also Damon's ex-lover, has bribed Eisenberg and the super-droid ADAMAN to commit the robbery.
On the verge of being caught, Sanjoni sets an elaborate trap that results in Damon's brain being melded into ADAM, the second version of the mechanical creation. A horrified Damon, now a part of ADAM, must quickly adjust to his remarkable new powers, his only tool to stop ADAMAN. But before long, Sanjoni, using his and Brenda's child as collateral, pits ADAM and ADAMAN in a lethal confrontation.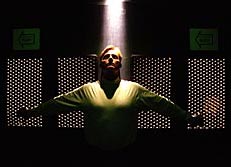 Starring
Andrew Jackson
Shannon Kenny
Michael Harney
Jennifer Gatti
Eric Scott Woods
Edoardo Costa
Monte Markham