Entertainment Weekly
by Ken Tucker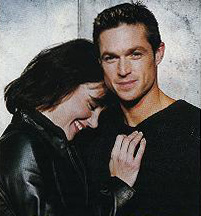 Great Performances:
The Year's Most Dazzling Turns on Stage and Screen
Movie actresses on the other side of 40 rightfully complain about the constant on- screen matchups between young women and older men, but on the magically offbeat CBS drama Now and Again, the endearing Close and wryly witty Colin invert the equation. In a fantasy millions of housewives can get behind, he plays the brain of her middle-aged husband transplanted into a young-stud body; true love and a transcendent appreciation of firm pectorals lead Colin to be attracted to this man in a way she cannot explain. Their hesitant, instinctive surrender to l'amour scientifique makes for the most compelling odd couple (and the best goose-bump TV) since Mulder and Scully.
---
Entertainment Weekly
by Ken Tucker
10 Best TV Shows
[SNIP]
5. Now and Again (CBS)
As the brains behind the year's most surprising romance/comedy/sci-fi drama, Glenn Gordon Caron obviously has learned a few things from his long TV absence since ''Moonlighting'' -- foremost among them: Don't just rely on your two main stars. Margaret Colin and Eric Close are marvy, but so is Dennis Haysbert as Close's impishly imperious boss, and so is Gerrit Graham as a perennially confused family friend, and so is Heather Matarazzo as their sweet, all-accepting daughter. All this, plus strong ratings in the ghetto of Fridays at 9 -- the wonders of network television never cease.
---
Entertainment Weekly
by Bruce Fretts
10 Best TV Shows
[SNIP]
5. Now and Again (CBS)
The high-concept premise starts off with a brain transplant, but Glenn Gordon Caron's sci-fi romance plays more like ''The Six Million Dollar Man'' with a heart transplant. Who knew a secret-agent superhero show could be so... moving?
December 24, 1999