Yahoo! News
Entertainment Headlines
by Frazier Moore
"Moonlighting" Creator Is Back
You might say "Now and Again'' is a show with a brain. That would be Michael Wiseman's, which was recently involved in a little body-switching.
But it's also about toes. Yours. On which this curious new series keeps you.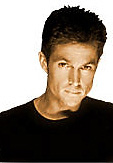 For example: What to make of the eerie three-minute sequence with a Tokyo subway car, a carton of eggs and mass execution that began the first episode last month?
And what about Dr. Morris as he beholds Michael Wiseman, a top-secret superman engineered to carry out risky government missions? Thrilled at his masterpiece, the otherwise starchy scientist begins crooning: "... On the day that you were born the angels got together, and decided to create a dream come true ....'' A Carpenters song is not what you were expecting.
Exactly what is "Now and Again'' about? Well, at the start of last week's episode, it took 31/2 minutes to brief viewers on the two installments that had gone before:
Wiseman, a middle-aged family man and insurance agent (portrayed in his original, roly-poly form by guest-star John Goodman) dies unexpectedly, whereupon his brain is given a new home in a young, trim, superhuman body (which, from head to toe, looks very much like that of series star Eric Close).
In exchange for life after death, Wiseman agrees to do the government's bidding under the day-and-night control of Dr. Morris (Dennis Haysbert). And there's one other condition: He can never contact his family.
Meanwhile, Wiseman's bereft widow (Margaret Colin) is battling his former boss, a scoundrel who is withholding her insurance benefits.
Got it? Nevermind. Only two things seem certain about "Now and Again'':
- No insurance company will be buying ad time on this show.
- Otherwise, anything can happen.
"It's about death and resurrection, about family and commitment, about the power of love,'' says creator Glenn Gordon Caron, "with all of that framed by what we traditionally think of as an action-adventure show.'' And don't forget the sci-fi element, or the comedy.
Airing Friday at 9 p.m. EDT on CBS, "Now and Again'' is this fall's freshest, most freewheeling series. And the most acquisitive. Borrowing from "RoboCop,'' "Frankenstein'' and "The Wild, Wild West,'' from the Broadway musicals "Damn Yankees'' and "Carousel,'' from David Lynch depravity and Frank Capra righteousness - well, this is some genre-busting goulash.
"Part of our job is to startle you,'' Caron explains. "If it's different enough, maybe you'll come back every week just because you're intrigued.''
So far, so good. "Now and Again'' is winning healthy ratings, and last Friday trounced the much-awaited premiere of its Fox time-slot rival, "Harsh Realm.''
But Caron has another goal: to keep himself intrigued.
It was he, of course, who created a landmark genre-straddler of the 1980s: "Moonlighting.'' Ostensibly a melodrama about a detective agency, it never let a case get in the way of romance, slapstick or a painful pun. (A bucket falls on Miss Dipesto's head and David cracks, "You're looking a little pail.'')
"There was this huge body of detective television 'literature' out there already, and I wasn't excited about doing another one,'' Caron recalls. "'Moonlighting' was my attempt to stay awake, to stay involved.''
"Moonlighting,'' which starred Cybill Shepherd and a brash newcomer named Bruce Willis, kept everyone awake for four antic years.
Now, after a decade directing films (including "Picture Perfect,'' "Love Affair'' and "Clean and Sober''), Caron is back in TV. This time, he has come upon the doddering corpus of TV action-adventure, then transplanted its brain and heart into his robust new series.
"We're just trying to tell a story differently,'' he says. "Normally, if you did a show about a man who was built by the government, the focus would be on his missions and the villains he was supposed to thwart. But we have a tremendous emphasis on his personal life - his inner life. Our object was to do a show that was very felt."
Caron, 45, is at his desk in the series' production offices, an austere suite whose only ornamentation is its candy-colored scattering of iMac computers.
Next door in this Queens industrial district, a sound stage accommodates the sets for Wiseman's townhouse-prison and the suburban home he used to share with his wife and daughter.
But the rest of New York City is Caron's back lot, which he taps to full advantage in giving his series its unique style.
"I'm trying for a collision of the weird and unexpected with almost the mundane,'' Caron says. "I want to see how broad the palette can be: How much comedy, how much drama, how much tragedy, how much action, and how much music can you pack into the same bag and still make it seem of a piece?''
And why not? "Your own life,'' he observes, "doesn't declare a single genre as you're living it.''
October 14, 1999