Girl Magazine
by Annabel Vered
Hangin' with Heather
She made a big splash by playing a tortured adolescent in Welcome to the Dollhouse. But you'll really want to Scream when you see what this indie teen queen is up to next.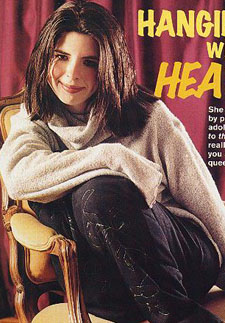 She's not the kind to throw a traditional birthday bash, but Heather Matarazzo is planning on celebrating her 17th birthday (it's November 10th) in a big way. That's because the actress-who's currently starring as the obnoxious but vulnerable teenage daughter on CBS's Now and Again will finally be getting her license. In other words, she'll be able to drive her Mitsubishi Galant without her father or brother having to go along for the ride. (Heather's mom is the only family member who refuses to get in the car with her behind the wheel.)
And that's not the only milestone she is looking forward to either. As a senior who attends high school in Long Island, NY, Heather is all about graduation day. Although she loves hanging out with her friends at Starbucks and jamming with her band Crash Course (she plays electric guitar), she's definitely not going to miss science or math class. "I'm so excited. There's no sadness or remorse on my part [about this being the last year of high school)," says Heather, who, for the record, loves English, social studies, and art.
Currently in the process of looking at colleges, Heather has already decided that she wants to study in the Big Apple. So, she's filling out applications for New York University, Columbia University, and the School of Visual Arts. "I want to direct and produce," she says about her future. "I really want to do a remake of the film classic A Streetcar Named Desire-but a modern-day version of it."
But that doesn't mean Heather -- who has credits like Dollbouse, Devil's Advocate, and the TV-movie Our Guys: Outrage in Glen Ridge under her belt -- has plans to abandon acting altogether. Like her past roles, Heather will be playing another 'strong and fiercely independent' character in the upcoming drama Getting to Know You.
In the indie flick, Heather stars as a 16-year-old girl whose family secrets (dad's an abusive alcoholic, while mom's a non-maternal punching bag) are revealed in flashbacks while she and her brother (Mark Blum) are waiting at a bus station. "It's about how throughout that whole day, she gains the strength to be able to tell her story to somebody," she says.
One story Heather's not spilling, however, is any details about her cameo role in the much shrouded-in-secrecy Scream 3 (scheduled for release in December). "I know nothing, and even if I did, I wouldn't say anything because I don't want to get my head chopped off," Heather says.
Although she claims to be a fan of the horror-movie genre, she admits to getting a little freaked out when watching them. "I get scared and hide under my covers," Heather says. So will she be able to go see herself in Scream 3? "I'll try and watch, but I'll probably close my eyes and go, 'Oh no!"'