(They got the name wrong in the very last paragraph of this article. All other mentions are correct)
---
Soap Opera Update
by Damon Romine
It's a Hit:
After years of struggling, the cast of NOW AND AGAIN revels in its success!
Eric Close and Margaret Colin have something in common, and it's not just that they star

opposite each other on CBS' romantic new sci-fi fantasy NOW AND AGAIN. As sharp-eyed soap viewers may know, both began their careers on daytime!

Close played Sawyer on SANTA BARBARA from 1992 to 1993. Colin played Paige on THE EDGE OF NIGHT in 1979 and, more notably, was the original Margo on AS THE WORLD TURNS from 1981 to 1983. And while both actors have worked steadily in primetime and movies since then, neither ever hit it big until now.

Slowly, but surely, NOW AND AGAIN has proven to be a winner for CBS, garnering a large and loyal fan base.
"My God, I haven't had a 29-inch waist since I was in elementary school."
- Eric Close
Will the two ever find their way back together? "Honestly, I don't know what's going to happen," says Close. "Every day is a new discovery, and that is really exciting, instead of knowing. I like that."
What Close didn't enjoy so much - at least, not at first - was having to tone up for the part. "One thing as an actor that I never really liked is the appearance part of it," he admits. "It's always been a struggle for me to really get into the gym and to work out." So when he found out he'd landed the role of Michael, he was a little taken aback. "I thought, 'My God, I haven't had a 29-inch waist since I was in elementary school!'"
Close (here with GL's KimZimmer and ex-AMC star Sydney Penny) was a hit on the soap scene with the now-defunct SB.

"This isn't what I've been used to. It's different and exciting," says Close, who has embraced his new role as NOW AND AGAIN superhero Michael Wiseman. As the story goes, Michael used to be an ordinary guy, until he almost died in an accident and the government experimentally transplanted his brain into a bionic body making him the "perfect male specimen."

Perfect, indeed! While Michael scales buildings with his bare hands, breaks bricks with his head and deflects bullets with his skin, his impressive physique has not gone unnoticed by his wife - Colin's character Lisa. The trouble is, Lisa has no idea that her "dead" husband is actually right under her nose... in a younger, hunkier package. Meanwhile, because of obligation to his employer, Michael isn't allowed to reveal the truth. The romantic tension between Michael and Lisa is off the scale.
With only nine days to prep for the first episode, Close got together with a trainer, exercising for four hours every day. He dropped 15 pounds, but still wasn't in perfect shape. Watch that first episode again, and you'll see how the director creatively shot around the still-in-training actor.
Once CBS decided to add NOW AND AGAIN to its fall schedule, producers told Close: "Okay, now it's time to do real work. You have six to eight weeks to get ready." The actor calls this pressure a blessing in disguise, giving him the incentive to get in shape for the first time in his life.
By the time filming began on the second episode, Close had rippling abs and bulging biceps. He now spends two hours a day working out to maintain his new, improved body. Like his character, who's not allowed to eat sweets, Close has replaced his favorite Dove chocolates and Butterfinger candy bars with protein shakes.

Meanwhile, since actresses are usually the ones who must toil at staying in shape, Colin is more than thrilled at this reversal of fortune.

"Let him lift the weights! It's very refreshing," she jokes. Fans love the fact that Colin, at 42, is 10 years older than Close.

The show films in New York City, which is convenient for Colin since her hubby Juson Deas stars on GUILDING LIGHT.
And Colin adds that part of the allure of playing Lisa was the idea that she could relax a little on the fitness front. "I looked at doing this part and said, 'Oh good. There's the refrigerator. Eat everything in it. And if I want to drink, I can have some more wine!'"
The actress is quick to point out yet another benefit of having such a buffed love interest. "It's very nice to be the object of desire for" – Colin drops to a deep breathy voice – "the most wonderful man in the world." Catch ONCE AND AGAIN on Friday nights at 9 p.m.; you won't be disappointed by this exciting and inventive drama.
---
The Long Climb to the Top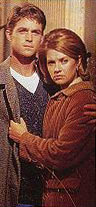 It took a while, not to mention many failed series, but both Colin and Close have finally achieved primetime success. From 1986 to 1997, following her stint on ATWT, Colin worked on five nighttime shows: FOLEY SQUARE, SIBS, CHICAGO HOPE, THE WRIGHT VERDICTS and LEG WORK; only CHICAGO HOPE stuck around.
Close, meanwhile, guest-starred on SISTERS in a recurring role before tackling work on ABC's MCKENNA in 1994, NBC's DARK SKIES in 1996 and CBS' THE MAGNIFICENT SEVEN in 1998, none of which lasted very long. The actor is riding high these days, but takes his failures in stride: "You show up, you give 110 percent, and that's all you can do."
Both Close and Colin appeared on a number of television projects, including FOLEY SQUARE (left) and DARK SKIES (right), before finding a hit.
January 18, 2000