TV Guide
CLOSE-UP Hot Show: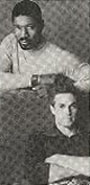 Now and Again, Friday, 9:00 pm
Disco Inferno: Theo and Michael investigate a mysterious death that is heated in more ways than one. Ed Delongpre, a middle-aged businessman, is reduced to a pile of ashes when he's struck by a flash of blinding white light in his office. When Theo (Dennis Haysbert) and Michael (Eric Close) arrive at the scene, they're told by an investigator that the man is apparently a victim of spontaneous combustion: he was charred from the inside but his surroundings were basically untouched. However, Theo, always a man of science, believes it's all a cruel hoax -- until he begins to feel a strange burning sensation inside. Lisa (Margaret Colin).
January 14, 2000
---
Ultimate TV
Whoopi Teams With Glenn Gordon Caron
Bruce Willis, Whoopi Goldberg, who's been moonlighting from her film career as host of the syndicated "Hollywood Squares" and Glenn Gordon Caron, exec producer of CBS' "Now and Again," are going into business together. They'll be teaming with talent exec Arnold Rifkin to form Cheyenne Enterprises.
The high-powered Rifkin worked as the agent for Willis and Goldberg at the William Morris Agency. Danny Glover and roots rocker John Mellencamp are also partners in the new enterprise.
According to Variety, Cheyenne has signed a three-year production deal with Twentieth Century Fox Television to produce several series.
January 6, 2000