Seattle Times
by Jay Bobbin
John Goodman is back, in flashbacks
on "Now and Again" on CBS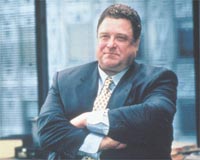 If an actor plays a regular character on a series, he usually has the part for more than 15 minutes.
That's one reason John Goodman is unique.
In one of last fall's big surprises, the former "Roseanne" co-star appeared (without billing) in the opening act of "Now and Again" when that CBS series premiered. He had the role of downtrodden insurance man Michael Wiseman before the character fell in front of a moving subway train. Eric Close then took over the part, playing Michael as the same brain in a much sleeker and stronger body.
It might have seemed impossible for Goodman to reprise the part, but that happens in the Friday, Feb. 18 episode (9 p.m. ET/PT). He appears again as Michael in flashbacks that the current incarnation of Wiseman has during a seizure. Dr. Morris (Dennis Haysbert), the government operative who oversaw the brain transplant, seeks a remedy as Michael's scenes from the past cue Goodman's return.
"I kind of joked with them last time that if they wanted me to come back and play Michael's evil twin, I'd be around," Goodman says. "When people saw me in the first (episode), they thought I had a new show, so I was being congratulated in the grocery line a lot. I didn't have the energy to explain what the situation was, so I just thanked them, moved on and loaded up the car."
Remaining linked to "Now and Again" even when he isn't on it amuses Goodman greatly: "It's like the old movie 'They Saved Hitler's Brain.' Though I'm usually goofing around with my kid at that time of night, I watch the show whenever I can, and I think it's swell. It's really held up well. It maintains your interest, and the actors are terrific."
Goodman's new "Now and Again" scenes give a fuller picture of what Michael's home life was like with wife Lisa (Margaret Colin) and daughter Heather (Heather Matarazzo). He's not supposed to contact them in his present form, though he has done that. If he were actually reincarnated, would Goodman want to resemble Eric Close? "Hey, why not?," he laughs. "I mean, you can't go in the other direction too much more."
Creator-producer Glenn Gordon Caron ("Moonlighting") gave Goodman a tall order in the "Now and Again" debut, since the central character had to be established in the brief time Goodman then had on the show. "You couldn't really dig too deep," the latter allows, "so I just gave it a surface gloss. Michael was starting to become sort of a loser. He was losing his job, and his marriage was slipping a bit."
All bets were off as soon as Wiseman met his fate in the subway station. A striking visual made Goodman seem suspended in front of the train as both moved in slow motion, and the actor still marvels at that. "I had gone home, so I don't know how they did it. Someone bumped me and I almost fell off the subway platform, then a stunt guy took over. I did a lot of blue-screen stuff (with backgrounds added later), and they used my head a lot. The way they put it all together was really cool."
Along with the occasional TV job -- encompassing his recurring "Saturday Night Live" appearances as Lewinsky-scandal informant Linda Tripp ("I can't imagine she'd have anything kind to say to me") -- Goodman has stayed busy with movie work, as with "Bringing Out the Dead" and Garry Shandling's upcoming "What Planet Are You From?". He's thinking of doing another series if only to remind people exactly who he is, despite regular repeats of "Roseanne."
"You'd be surprised," he muses. "The other day in the airport, I was Tom Arnold, John Madden and (the now-deceased) John Candy to different people, all in the span of about 20 minutes."
February 13, 2000