TV Guide
by Shawna Malcolm
Whose Brain Is It Anyway?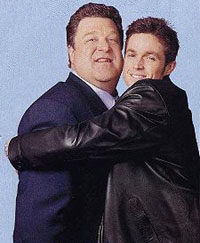 Not even getting creamed by a subway can keep John Goodman down. The 47-year-old actor returns to CBS's Now and Again this week, even though his character, insurance agent Michael Wiseman, fell in front of a train in the series premiere. (His brain was then transplanted into the well-toned bod of a government-created superhero.) So how exactly does this "dead" man walk? "It's February sweeps," the former Roseanne star says with a laugh. "Anything's possible."
But not just anything would do. "I thought maybe he could come back as Michael's evil twin, but nobody [seemed] to go for that," says Eric Close, who plays the recipient of the brain. "Or I thought I could look in the mirror and see John staring back at me," à la Quantum Leap. "I wish I'd though of that," admits series creator Glenn Gordon Caron. "I'm sorry to say I didn't." Instead, Caron concocted a plot in which Close -- about to put on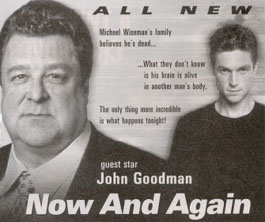 a dog and pony show for a senator who supplies funding for Michael's "development" - slips into a catatonic trance. Flashbacks reveal reveal that the $3 billion man has experienced these seizures before, during his John Goodman days.
"I'm excited to be back," insists Goodman. "The show's really well done, and it's an easy way for me to make a couple of bucks."
Not that he's hurting for cash: Goodman has five upcoming films, including "O Brother, Where Art Thou?" opposite George Clooney and Michael Badalucco. Still, says the actor, "I've told Glenn, 'I'm here when you need me. If you need me to play the guy's cousin Skippy, I'll do it.' Hell, if they needed me to screw in a lightbulb, I'd do it." Now there's a bright idea.
February 12, 2000