Calgary Sun
by Tyler McLeod
This Time, Close Hits the Mark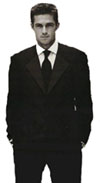 Eric Close came so close so many times before.
Close had leads in three other promising series before landing the starring role in the rookie hit Now and Again, airing tonight at 7 p.m. on F and 10 p.m. on M (CBS).
"When it's good work and good material, you just keep trying and giving it your best shot," the actor says.
In 1994 there was McKenna, an outdoor adventure story co-starring Chad Everett and an up-and-comer named Jennifer Love Hewitt. But only a few episodes aired.
Dark Skies was a hit with critics in 1996. The alien-conspiracy plot intertwined real events and historical figures with stars Close, Megan Ward (Melrose Place) and future Borg Jerri Ryan. Its one season reruns at noon Thursdays on o (Sci-Fi Channel).
Viewers enjoyed The Magnificent Seven (1998) enough to pressure CBS into bringing it back for another half-season before the western with Michael Biehn and Ron Perlman met its maker last summer. Now, Z (TNN) has it Wednesdays at 8 p.m.
Michael Wiseman, Close's character on Now and Again, cannot forget the past he shared with his family before becoming part of a classified military experiment.
Close is more present-minded when discussing a resume which also features Santa Barbara and Sisters.
"I saw Brad Pitt on a soap opera. He got fired off that soap opera -- he was horrible! He's pretty darn good now," Close says. The difference, mind you, is Close wasn't horrible on his previous projects and most of them deserved better fates. "I like to work -- especially when it's good work. If it works out, it works out," he shrugs. "This one just happened to be the one." The one to find critical praise, network support and devoted fans all at the same time.
"When we got the response from the press, it was so positive and they continued to come back after the pilot," he says. "Once we saw the numbers, we really started to realize how thrilled people were with the show and I had a feeling we were going to be doing it for a while."
Now and Again caught audiences by surprise.
Ads heavily promoted John Goodman as luggish insurance executive Michael Wiseman. Before you could say "term life," his character had fallen off a platform into the path of a speeding train.
An experimental procedure transplants Michael's brain into the perfectly bioengineered body of 26-year-old (Close) and upon his reawakening Dr. Theodore Morris. (Dennis Haysbert) explains to him the side-effects of the operation.
(Eric Close) is now property of the U.S. government. He will be assigned missions too dangerous for normal human beings. His family thinks he is dead and, for security reasons, he can never see them again.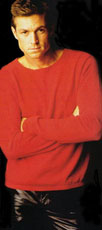 "This show is not as much of a science fiction as Dark Skies was. It was the focal point of Dark Skies -- on this show it's the subtext," Close explains. "This is really more a drama with some romance and comedy weaved into it."
Just as he crossed genres with Moonlighting, Now and Again creator Glenn Gordon Caron has created a impressively distinct hour of TV.
One show may feature Michael's widow (Margaret Colin) battling his former employer over benefits owed or his daughter (Heather Matarazzo) being asked to a school dance. Another week, there are anti-gravity suits, FBI agents or bank robbers. When he wasn't defeating spies and terrorists with chemical arms, Michael even managed to infiltrate his family's life under the new identity.
Tonight, Goodman returns as the 1.0 version of Michael in flashbacks accompanying a seizure suffered by the bionic patient. The medical emergency comes just as Dr. Morris is supposed to be showing off his project to officials in charge of funding the program.
"I just think the shows get better and better every week," Close says. "Every show is different and unique in its own way."
February 18, 2000