E!Online
Wanda
A love note to who's really
capturing my heart this season
[SNIP]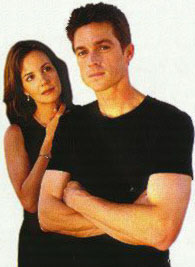 No, my vote for the most romantic duo on television goes to an old married couple who've barely shared a kiss this season. They're Eric Close (Michael) and Margaret Colin (Lisa) of that other "and Again" show--CBS' Now & Again, arguably one of the best shows on television.
In case you don't know the premise, Michael and Lisa were married for years, before Michael (in the form of John Goodman) was killed and brought back to life in the body of a Six Million Dollar Man-meets-government secret weapon. The catch? The new and improved Michael can't have contact with anyone from his former life, mainly his wife and daughter (Heather Matarazzo). But the guy just can't stay away.
Whether he's sending white roses (Lisa's favorite), saving the family house from being sold or, as was the case last week, taking a bullet for his bride, Michael is full of the kind of passion and energy that Hollywood usually reserves for young lovers.
Don't get me wrong. I'm down with sweaty palms, pounding hearts and tumultuous breakups. But if you want to see an example of what real love can be, tune in to Now & Again.