Ultimate TV
by Kevin Biegel
Heather Matarazzo:
"Now and Again"

Heather Matarazzo is sitting on the couch in her den watching "The Nanny," magazine in her lap with the latest starlet on the cover and the phone to her ear. Normal, everyday teenager right?
Well, not exactly.
Normal teenagers aren't on a hit drama seen by millions of people every week. Normal teenagers don't have a page full of movie and TV credits. And normal teenagers doesn't have secrets about their driving tests displayed on the Internet.
Perhaps more tellingly, they also don't say things like, "I love Elia Kazan. I think he's amazing. I swear, if he was still making movies I'd love to work with him. I think he's brilliant." And most adolescents don't go through their awkward phase in front of a camera. But Matarazzo did just that in her breakthrough role, playing painfully sensitive Dawn Weiner in the 1995 Todd Solondz film "Welcome to the Dollhouse."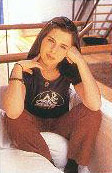 Matarazzo now stars as Heather Wiseman in CBS' "Now & Again" (Fridays at 9 p.m. ET). The sci-fi family drama is about a man who goes on secret government missions after his brain is placed in a superhuman body, all while trying to relate to his wife and teenage daughter (Matarazzo). Amazingly, the two elements combine seamlessly under the adroit hands of exec producer Glenn Gordon Caron, who turns an outlandish premise into something original and invigorating.
"NOW" AND THEN
Matarazzo consistently brings out the sweetness in a broken character, here playing a daughter without a father. John Goodman plays the pre-experiment dad, reuniting him with Matarazzo did a six episode stint on "Roseanne" a few years ago. Matarazzo has nothing but nice things to say about the famously loudmouthed Roseanne. "She's amazing, she's a sweetheart. There are not enough lovely words to describe how awesome she is."
The 17-year-old actress' television track record also includes "The Adventures of Pete & Pete," the groundbreaking Nickelodeon show that ran for three seasons in the early '90s, and the short-lived NBC sitcom "Townies."
"I love to play characters that challenge me as an actor," Matarazzo says. She played a sexually molested minor in "The Devil's Advocate;" a mentally handicapped girl assaulted by the football team in last year's "Our Guys: Outrage at Glen Ridge;" and a torn outsider in "Hurricane Streets." Last year she wandered around a bus station as a girl grappling with her alcoholic parents' split in "Getting to Know You" opposite Bebe Neuwirth.
Harsh fare, especially when you consider the genteel circumstances of her "discovery." "Someone spotted me when I was really young at this dance recital thing," Matarazzo recalls with a giggle. "No one was really putting in any effort except for me when (this agent) spotted me, and he's been my manager ever since."
SHE IS ALL THAT
While most actors her age would sell their sister to star in the typical outsiders-turn-out-to-be-really-cool-once-they-take-off-their-glasses-just-in-time-for-the-high school-prom feature film, Matarazzo shies away from such roles.
"I'm never going to do something because of the commercial (value)," Matarazzo says. "I'm gonna do it because of the script, and what I feel I can get out of the project, that it'll challenge me. I'm not going to do it for any other reasons besides that."
Matarazzo lives with her parents in Long Island, shuttling between work on "Now & Again," film roles and classes at a public high school. "I go to school, I go to work, I fill out my college applications, then I read, I go to bed, I watch 'E.R.'" Some friends haven't been able to deal with Matarazzo's career. But the resentment in her voice is fleeting as she talks about the friends she's lost along the way. "My group of friends are completely supportive. I mean, I've lost a lot of them, but the few that I have--I can count all my friends on two hands. You know what, there's a quote, 'if you can count the number of friends on a single hand then you've led an amazing life. Which is so true. So I'm more than lucky."
Still, there's something a little screwy going on when the intricacies of a 17-year-old's life are written on the Internet for all the world to see. When told about a web site offering bits about her quest to get a driver's license, she's startled. "What is wrong with people?" she marvels. "It's very disconcerting. Do they not have anything better to do?" Obviously not. She counts herself lucky since she can conduct a successful acting career and not work out of Los Angeles, which she dismisses as "Plasticville." Matarazzo plans on staying back East when she starts up college in the fall to study filmmaking.
"I want to be the female version of Martin Scorsese but not as gritty and violent," she says. "I love what I do, it's my life. I'm gonna do it till the day I die." Then she's off the phone. After all, even future Scorseses have homework.
"Now & Again" airs Fridays at 9 p.m. (ET) on CBS.
March 7, 2000