USA Today
By Jefferson Graham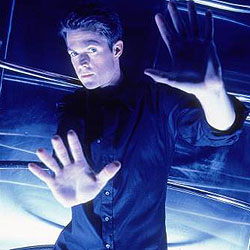 Close-up look at "Now and Again' star
Eric Close wanted to play an action-adventure star so badly that he ate nothing but tuna fish and water and exercised daily for three hours for 10 days to look the part of a government-created superhunk.
The results paid off. He dropped 18 pounds, went from a 34-inch waist to a 31 and looked like $3 billion. On CBS' Now and Again (Fridays, 9 p.m. ET/PT ), that's how much the government is said to have spent on creating the new Michael Wiseman, fueled by the brain of a recently deceased insurance executive.
He has been awake since 4:15 a.m. doing push-ups and sit-ups to work on those abs. While in New York, where the show is filmed, he also jogs daily through Central Park and watches what he eats.
"No cheese, bread, pasta or rice," says Close, 32, who grew up in San Diego, the son of a doctor and a retail saleswoman. "My only downfall is my sweet tooth. I had a Butterfinger bar last night, and that was good for 600 calories."
At breakfast, Close keeps his eating on good behavior. He orders an egg-white omelet and melon, with nothing sweet or fattening in sight.
It's all part of the job. On Close's last series, the actor learned how to ride a horse, and before that he was fighting aliens.
Now and Again is Close's fifth series. After working a few months on the daytime soap Santa Barbara, Close played Chad Everett's teen son on McKenna; he worked on 13 episodes of Sisters (as a boyfriend to Cat, the daughter of Sela Ward's Teddy character); starred in NBC's Dark Skies; then got to play a cowboy on the CBS Western The Magnificent Seven.
When The Magnificent Seven was about to end, Close heard about the Now script from CBS and was eager to work with creator Glenn Gordon Caron, previously best known for Moonlighting.
"I haven't had much of a chance to do comedy in my career," Close says. "The writing in the pilot was amazing, really funny. I knew the show would be a challenge. I love action-adventure and romantic comedy, and this was both. Plus, I wouldn't have to ride a horse."
Caron had never heard of Close and told him so.
Even though he was recommended by CBS, which I was dubious of, he was totally right for the part," Caron says. "He was very clearly a man, but he also had a boyish, rascally quality about him, which is one of the peculiar demands of the role, because he's got to play this older man in a young person's body."
"Eric just has this incredible presence," says John Watson, executive producer of The Magnificent Seven, who hired Close before McKenna as a lead of an unsold CBS pilot. " He was a very inexperienced actor then, but so photogenic, it was a fairly easy choice to hire him. He's since proven that he has great talent as an actor. He's on his way to becoming a big star."
Now and Again films at the site of a former cement factory in Queens, but Close recently spent two days in Los Angeles, talking up the show at the Television Critics Association meeting. It's a strong performer for CBS on Fridays, attracting 9.9 million viewers weekly, the network's fourth-highest-rated rookie of the year, and tops the list in the 18-to-49 demographic, where CBS historically has underachieved.
On Now and Again, Close's character yearns for his old life with his wife and daughter but is prevented from getting too close by the government operative who has created his new persona.
So how long can this go on?
"For years," Close says. "My grandfather was a prisoner of war in Hungary for 11 years. The minute he got out, he went straight back to Budapest to find his wife and mother. For Michael Wiseman, no matter how long it takes, he will always try to find a way to be with his daughter and wife. Lisa (co-star Margaret Colin) can go on and have her own life, but the undercurrent will always be there, with the audience always hoping they can be together."
Does he want to see them unite?
"Sure," he says. "Seven years from now, in the last episode of the series."
March 16, 2000