Entertainment Weekly Online
Features: Fall TV Preview -- New Shows
by Shawn Malcolm
NOW AND AGAIN
CBS 9-10 PM Debuts Sept. 24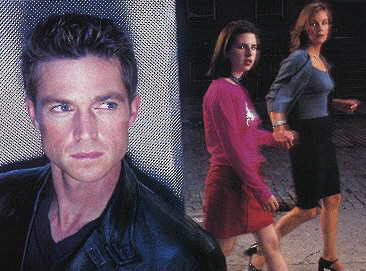 With every Fall schedule comes the usual selection of dramas about doctors, lawyers, cops, insurance salesmen-cum- government-engineered superheroes.... Wait a minute, did we read that last synopsis right? Yep, it's CBS' new sci-fi specimen Now and Again, in which -- try to follow us here -- middle-aged Everyman Michael Wiseman (John Goodman) gets pulverized by a subway train, and then is rescued by shady federal operatives who transplant his mind and soul into the body of a bionic twentysomething (Eric Close) and force him to fight terrorism. Oh, and did we mention he's not allowed to see his wife (Margaret Colin) and kid (Heather Matarazzo) ever again?
Confused? Of course you are. But even though Now may be a bit of a head scratcher, it also boasts this season's most intriguing premise. Which makes sense, since it sprang from the off-kilter mind of Glenn Gordon Caron (Moonlighting). "There's this need to shorthand everything," he says. "But this [show] isn't easily classified. It's comedy, romance, action-adventure, and, dare I say, maybe even a musical. It metamorphosizes every week."
The shape-shifting project began last year when CBS-TV prez Les Moonves told Caron, "'We'll pretty much let you do whatever you want,'" says the exec producer. "Nobody had said that to me in quite a while." The result is a series inspired not by The Six Million Dollar Man or even Seconds, John Frankenheimer's creepy, eternal-youth-themed 1966 film, but the musical Damn Yankees, whose essence Caron sums up as "No sooner does this guy in his 50s get his wish to play baseball for the Washington Senators than he realizes what he really wants is to be back home with his wife."
To that end, look for Michael to balance crime-fighting duties with attempts to contact his family, which suits Matarazzo (Welcome to the Dollhouse) just fine. "It's not too rough having a dad who looks like Eric," she jokes. As for the angel-faced Close, last seen in CBS' The Magnificent Seven, he still can't believe he wrangled the role. "I think when Glenn was looking for the 'perfect body,' he was stretching when he chose me," he says. All modesty aside, his character does boast some pretty impressive powers: He's got superhuman strength and lightning-quick speed. Plus, he can hold his breath for six minutes and 11 seconds, a strategy he'll employ when confronting the show's first recurring nemesis -- the Eggman, whose primary lethal weapon is deadly-gas-filled ova. Still, Close admits to feeling a pang of envy when it comes to a certain '70s TV crime fighter. "Lee Majors was too cool," he says. "I don't have super eyesight or that awesome sound when I jump, so I've got a ways to go before I can fill those shoes."
September 10, 1999