USA Today
by Jefferson Graham
Trying TV again, 'Now' star loves success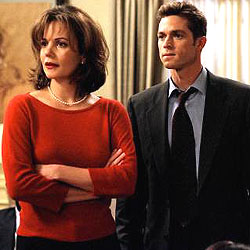 Margaret Colin says she must have been having "a high mental-health day" when she signed on for CBS' surprise hit Now and Again.
Executive producer Glenn Gordon Caron asked the 41-year-old actress "to play the older woman to a younger man, have a teenage daughter and live in the suburbs. And I said yes."
Turns out that was a sharp move. The romantic/comedic action-drama -- her sixth TV series in 15 years -- pops up on several best-of-1999 lists, including Entertainment Weekly's. TV Guide calls it one of TV's "smartest shows," and USA TODAY says it "looks like little else on TV."
And tonight, Now and Again - which has boosted the network's numbers on Fridays by 25% with the 18-to-49 viewers advertisers craves - gets a repeat airing in the 10 ET/PT berth normally occupied by CBS' top-rated new show, Judging Amy. It's a test to see how Now might perform on a night when TV draws a bigger audience.
Colin's other full-time series - Foley Square, Leg Work, Sibs and The Wright Verdicts - came and went. She appeared on Chicago Hope as the romantic interest for Adam Arkin's Dr. Shutt, but was written out. "None of the other series ever went longer than a year, but that was OK. Series are a big commitment. You figure you get in, get your exposure and your check, get out, and return to Broadway and movies."
But not this year. "I have a show that's getting some attention, and that's nice."
When the gig popped up, Colin, seen on film as the president's press secretary in Independence Day and Harrison Ford's wife in The Devil's Own, liked the idea of sticking around New Jersey, where she lives with her actor husband, Justin Deas (Guiding Light), and kids Sam, 9, and Joey, 6.
Caron (Moonlighting) tried to hire Colin for a role in the Jennifer Aniston film Picture Perfect, but she was tied up with another movie. He thought of her again when casting Now's Lisa Wiseman.
Lisa's husband, Michael, dies in the pilot. Unbeknownst to her, his brain lives on in a genetically engineered hunk (Eric Close). He yearns for his wife and finds ways to make contact.
"She's the heart of the piece," Colin says. "Glenn finds ways every week for this woman to be celebrated." Says Caron: "She has this tremendous humanity."
Michael has hinted at their past - and kissed her - but she hasn't caught on.
Won't Michael and Lisa have to get together? "You never know what Glenn's going to give you," Colin says. "I can tell you this: I'm never bored by what he writes."
December 27, 1999
---
USA Today
by Robert Bianco
CRITIC'S CORNER: TUESDAY
Old show, new night. CBS' surprise Friday hit Now and Again (10 ET/PT) makes a special Tuesday appearance with a repeat that finds Michael returning to his old insurance firm to help his wife receive her benefits.
December 28, 1999