---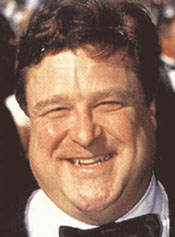 Michael Wiseman (John Goodman)
The Old Michael
MARRIED TO: Lisa Wiseman
FATHER OF: Heather Wiseman, age 15
MARRIED FOR: 17 years
CAREER: Insurance Salesman
EMPLOYED BY: Grand Empire Insurance
EMPLOYED FOR: 17 years
AGE: 45 years old
SHOE SIZE: 12
WEIGHT: 292
FAVORITE BREAKFAST: huevos rancheros
FAVORITE SONG: Groovin' by the Rascals
RESIDED: New Rochelle, New York
CAUSE OF DEATH: hit by an F-Train
LOCATION OF DEATH: New York City subway station

---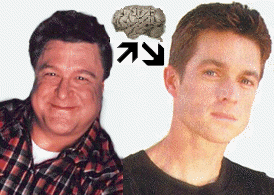 ---
Michael Wiseman (Eric Close)
ALIAS: Michael Newman

The New Michael
DEAD FOR: less than a year
PRESENT STATUS: old brain in the body of a bio-engineered super-human
AGE: 26 years old
HEIGHT: 6 feet tall
WEIGHT: 175 lbs.
PANT MEASUREMENTS: 30' waist, 32' inseam
SHOE SIZE: 10 1/2
FAVORITE SONG: Groovin' by the Rascals
RESIDES: in a townhouse on the east side, at 63rd and Madison
PRESENT CAREER: pretends to work for the IRS
NEWLY-INHANCED CHARACTERISTICS:
can run 35 miles an hour;
can hold his breath for 6 minutes and 11 seconds;
can knock down wooden doors;
can lift a person with one finger
LACKING CHARACTERISTICS:
can not fly;
can not see through people's clothing;
can not go through aluminum doors
OTHER:
loves his wife and daughter;
does not like to kill people;
inoculated with and intravenously-fed over 700 highly-experimental and extraordinarily-promising hormones, steroids and vaccines;
awakened at 6:00 am and "lights out" at 11:00 pm;
does not have access to a phone, newspapers, a calender, or a computer;
might have a tracking device inside him;
may have stitches on the back of his head;
likes to bowl

---
Eric Close (Michael Wiseman)
Date of Birth: May 24, 1967
Place of Birth: Staten Island, NY
Graduated: USC 1989 with B.A in Commmunications
Mr. Close currently stars in "Now & Again" as Michael Wiseman. He's no stranger to televsion, having portrayed Vin Tanner in "The Magnificent Seven" and John Loengard in "Dark Skies". He was also Officer Billy Griffin in "Sisters", played Brick McKenna in "McKenna" and was also in the short-lived (for TV standards) soap opera "Santa Barbara".
TV: "Stranger Beside Me", "Long Island Fever", "Without Consent", "Hercules and the Lost Kingdom" and "Trapped and Deceived"
MOVIES: "The Sky Is Falling" and "American Me"
* Mr. Close is a founding member of "Dreammakers", an LA-based non-profit organization that takes disadvantaged youths on adventure trips.
---
More Information
TV Guide's "TV to Watch" includes Eric Close
Article with Eric Close from the Winter Edition of Men's Journal
Article about Eric Close in People Magazine
Read about Eric Close's 12/16/99 appearance on "The View"
Eric Close answers fans questions at E! Online's Starboards
Eric Close's interview in People Magazine: Bionic Twist
Eric Close's interview in Entertainment Weekly: 'Close' Encounters
Eric Close Pictures
---
Relating Web Pages
Vin Tanner Pics at www.thewateringhole.com/vin.html
Eric Close Image Gallery at www.geocities.com/Hollywood/Bungalow/2436/eric.html
Eric Close's Other Roles at sundance.interspeed.net/vin/relative.html
Eric Close Screen Captures at blackraptor.interspeed.net/close/index.htm
The Sharpshooter (a page dedicated to Vin Tanner) at sharpshooter.interspeed.net/index.html
More Mag7 Pics of Eric Close at members.tripod.com/~sberry90/text/Partners.html
Tanja Christine's Eric Close Page at www2.crosswinds.net/~tanjacf/actors/EricClose.html
VinLuvR's Eric Close Page at www.geocities.com/Area51/Nova/7485/
IMDb Biography on Eric Close at us.imdb.com/Name?Close,+Eric